What is Indio?
Indio (short for Industry Only) is a powerful anti-oxidant vitamin based skin care range. You won't find it sold at parties or in the department stores in Melbourne Australia. Not because is not up to standard but due to the fact that Indio uses active ingredients that you must have a professional aesthetician advise the correct products for your skin's requirements.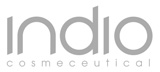 Indio can be used alone, or can be combined with peels, Microdermabrasion and Laser treatments.
Who should use the indio?
Developed for all skin types, indio can be tailored to your skin care goals. Indio formulations provide remarkable results with problematic skins.
There are specialised products to deal with issues such as acne, rosacea, pigmentation, fine lines and wrinkles, dehydration and sun damage.
Indio active ingredients?
Indio cosmeceuticals makes science beautiful by developing formulations with the powerful antioxidant blend of vitamins A, C, E, F, H and K together with natural anti-oxidant extracts.
On your skin, this blend provides nutrients that are vital to maintaining the health of your skin while protecting it from further damage.
Overall, you will notice significant improvement in the way your skin looks and feels in days. Photodamaged and hyperpigmented skin can be transformed to look and act younger and healthier. Your skin will be smoother, firmer and more even-colored and properly hydrated with Indio Melbourne.
For more info check indio in melbourne chadstone