It is quite natural that both men and women always want to look young and attractive.
Actually there is a way to make your skin look healthy, refreshed and considerably younger than it actually is.
Indio cosmeceuticals prides itself on being at the forefront of anti ageing breakthroughs. A team of skin care formulators and number of manufacturing laboratories throughout the world are behind indio who constantly strive to offer only the very best to the professional aesthetic market.
To purchase these specialised products or for further information please
call 03 9530 9800
Indio skincare introduces a new era in skin care, utilising the anti-oxidant, anti-aging qualities of Vitamins A, C, E, F, H, K and natural anti-oxidant extracts to fight free radical damage and maintain healthier, younger looking skin.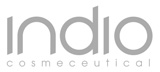 indio vitamin c serum
Indio vitamin c is the latest breakthrough in anti-ageing technology. Nikol VCIP, is the star ingredient from Japan. It is a stable oil soluble Vitamin C ester which has anti-oxidant activity inhibiting lipid peroxidation, offering outstanding transdermal absorption. Key features
Assists in the reduction of pre-mature ageing and in the stimulation of collagen production
Brightens the skin by inhibiting melanogenesis (production of pigment), thereby promoting a more even skin tone
Topical use diminish damages of UV exposure
Nikol VCIP does not exfoliate or irritate the skin making it suitable for sensitive skin
Enhances the effect of your sunblock so apply sunblock on top if used in the morning
indio Multi-v Serum
Encapsulated vitamins A, H and F. Helps to even out skin tone, hydrate and revitalise the skin while helping to improve the appearance of redness.
Nourishes skin and balancing skins sebaceous activities
Great for acne and acne rosacea sufferers
indio cleanse
A cleanser which not only cleanses but offers a light exfoliation and also hydration. It does not strip the skin. Active ingridients include Lactic and Glycolic Acid, Calendula and Vitamin E
increases cellular turnover while hydrating the skin for a fresh and rejuvenated complexion
destroys dead skin for a much smoother skin surface and more youthful appearance
fights skin inflammations
indio micro-exfoliant
A scrub used to gently refine your complexion by removing dead skin cells and unclogging pores, leaving the skin feeling fresh and smooth. Active ingredients include Beeswax, Calendula Flower Oil, Sweet Almond
high anti-inflammatory properties
extremely softening, calming and soothing effect
nourishes skin, especially beneficial for dry skin