Recently phrases "green coffee" and "slimming green coffee"
have been on TV more
than any other coffee brand available in Australia.
However, many people are still unaware of what it actually is.
In short green coffee is coffee that is unroasted. Normal brown coffee that we're all so used to is simply roasted and ready to use. There are also various degrees of roasting coffee from light roasted to double roasted and everything in between.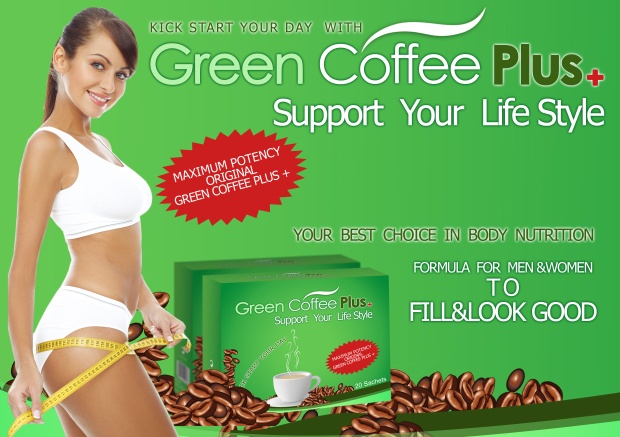 Why choose green coffee?
The fact is Coffee beans begin to lose their freshness immediately after roasting. This causes both the flavor and aroma to slowly diminish until you finally the ground beans to make your morning cuppa.
What is slimming green coffee?
Slimming green coffee contains a blend of unroasted coffee as well as roasted Arabica beans plus six to ten per cent of chlorogenic acid, a natural plant compound in green coffee that acts as a slimming and health promoting substance.
There are other useful ingredients in the blend. Some help curb your appetite. Others diminish cravings for sweet foods and carbohydrates.
Why normal coffee doesn't have the same effect?
Chlorogenic acid is destroyed in the roasting process, as result they are not found in the regular coffee in the same quantity. In recent study published in the American Journal of Clinical Nutrition, researchers found that chlorogenic acid from green coffee causes significant levels of weight loss. That's where slimming comes from.
Researchers also discovered how it works. In the gut sugar absorption is reduced and the rate at which fat is burned in the body is sped up. In addition chlorogenic acid was found to reduce blood sugar levels while increasing sensitivity to insulin, significantly reducing the risk of type 2 diabetes.
How to take Leptin Green Coffee or Green Coffee Plus
Simply take just one cup per day about an hour after breakfast and you are well on your path to healthy weight loss. Your metabolism is boosted, your energy is vitalised and your whole body will benefit, inner health on the inside to give you your best body on the outside.
What are other ingredients in green coffee and their benefits?
Here are some of the other ingredients in the Leptin Green Coffee and Green Coffee Plus
Panax Ginseng - promotes Yang energy, improves circulation, increases blood supply, revitalizes and aids recovery from weakness after illness, and stimulates the body.
Antioxidants - cancel out the cell-damaging effects of free radicals. Lower risk of heart disease and some neurological diseases.
Minerals – in order to regulate sugar metabolism and glucose control.
L-Carnitine - It increases the use of fat as an energy source by transporting fatty acids into the mitochondria, where they are 'burned' to release energy for body functions
Lotus Leaf – to invigorate the blood
Want to lose weight?
The answer try a green coffee
Buy Green Coffee Plus for only $55 per pack for 18 sachets from Laser, Skin and Wellness and we delivery to our door for free. Email and phone orders accepted
Talk to us we can help you to achieve your goal to get fit and live a life fully.
---
&nbsp
Like Melbourne Laser, Skin And Wellness Article?
Then share it with others at popular websites below: