Cosmetic tattoo Make-up: The procedure
Cosmetic Tattoo can benefit anyone who wishes to have a natural enhancement to their appearance without the use of makeup.
The procedure has many names. Most of the time cosmetic tattoo is used. Less common names include: micropigmentation, dermagraphics, or micropigment implantation. They all mean the same thing – look your best from the moment you wake up!
Our Melbourne clinic can offer you enhancements for:
eyebrows
top and bottom eyeliner
eyelash enhancement
lip liner
lip blend or even full lip color
scar camouflage
beauty spots or beauty marks
hair loss camouflage
areole creations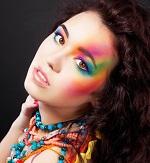 During cosmetic tattoo procedures, tiny individual implants of pigment are deposited into the dermal layer of the skin. There are several methods used today, including the traditional tattoo machines, the pen or rotary machine and the manual or hand method.
Our cosmetic tattoo specialist Moira uses a little pen-like device which hardly makes any noise.
The procedures typically take between 10minutes (for a beauty spot) to an hour and a half for longer treatments such as lip blend, eyebrow or eyeliner enhancements.
Usually results last for decades with only minor touch ups necessary every two to three years.
Checklist: Cosmetic tattoo Clinic
It is extremely important for you to get referrals before engaging in the process or cosmetic tattoo, and view the service provider's portfolio and history.
I would even go the extra mile and call a few of their past clients. Your appearance will become permanently altered, and you have to live with the results, whether they are good or bad. I've seen results that were flawless, and I've also met women who were not satisfied with the work they received and became upset as a result. It is important to trust the skill of your cosmetic tattoo specialist, so do your home work and chose an experienced practitioner.
Be warned. There are a lot of people out there performing tattoo make up procedures with only very limited training and experience. When you visit the clinic offering the service make sure you examine the area for cleanliness and the operators for knowledge and professionalism. A dedicated, involved, skilled cosmetic tattoo specialist should be able to answer any and all of your questions.
Make sure you feel comfortable communicating with you're the operator and that you can ask anything that's on your mind.
Safe standards and pigments for cosmetic tattoo is of paramount importance.
You should have a consultation with your chosen tattoo professional before the procedure. Discuss your expectations with the them. During the consultation, your practitioner may take your medical history. It's important that you are completely honest.
Additionally, you should be honest about the reasons you want micropigmentation so that all of your concerns are clearly understood by the practitioner.
The consultation time is also an opportunity to evaluate your skin for tone, texture and complexion in order to best match your natural colors with the proper pigment. Some cosmetic tattoo specialists take photographs.
Whatever you do trust your instincts. If you feel uneasy with a practitioner just leave. If you feel completely comfortable and all your questions have been answered proceed.
You'll love the freedom cosmetic tattoo enhancements
will bring into your life!
Cosmetic tattoo is an affordable treatment, available to all. So now you don't have to be a celebrity to achieve that well polished, immaculate look you want 24/7.
---
&nbsp
Like Melbourne Laser, Skin And Wellness Article?
Then share it with others at popular websites below: